Southern Black Eyed Peas Recipe or Hoppin' John is actually a passionate as well as soul-warming fragility. This black-eyed greens recipe is smokey, spicy, as well as pure contentment with a deep however not frustrating bacon flavor. As well as it is actually a conventional Southern recipe provided on New Year's Day to carry good luck!
I love anything with beans! Perhaps it started back in grade school when my aunt would cook beans for dinner in its modest rusticity – onions, salt, and oil, nothing fancy. Just that simple recipe made all of my troubles go away like magic.
And now that autumn is here, this Southern Black-Eyed Peas recipe is just the perfect dish to give us comforting soul-satisfying goodness to warm us up in this cold weather. This dish will surely remind you of home and nostalgic, happy memories. So relaxing and warm, indeed! ❤️
Classic New Year's Black-Eyed Peas for Good Luck
Black-eyed peas were first cultivated in North Africa and eventually became popular worldwide. Then they arrived in the southern U.S. in the 17th century. Southerners believe eating black-eyed peas on New Year's Day brings good luck and a slew of other beautiful things. They associate them with prosperity as the beans resemble pennies and coins.
Recipe Ingredients
How to Make Black-Eyed Peas Recipe
Prep the Peas
Soak – Rinse dry black-eyed pea beans and pick through and discard any foreign object. Add beans to a large pot, covering them with 3-4 inches of cold water. Let sit for 2-3 hours.
Cook the Bacon and Sausage – In a large, heavy sauté pan, saute chopped bacon until brown and crispy for about 4-5 minutes, then add sausage and saute for about 2-3 more minutes. Remove the bacon and sausage mixture, and set aside.
Saute – Toss in the onions, celery, garlic, jalapenos, thyme, and bay leaf, then saute for 5 minutes or so until the onions become translucent and the seasoning aromatic.
Cook the Peas
Add Liquid – Then pour in the chicken broth or water.
Season – Drain the soaked beans, rinse, and place the beans in the pot. And season with creole seasoning and salt to taste. Mix and bring to a boil.
Simmer – Reduce heat to a simmer and cook, uncovered, for about 20 minutes.
Add Collard Greens and Meat – Throw in the collard greens, bacon, and sausage into the pot, and continue cooking for another 10 minutes or more, stirring occasionally, or until beans are tender and slightly thickened to your desire.
Final Touch – Add more stock or water if the mixture becomes dry and thick. The texture of the beans should be thick and somewhat creamy but not watery. Remove the bay leaves.
Serve – Taste and adjust for seasonings with pepper, Creole seasoning, and salt if needed. Serve over cooked rice and garnish with green onion.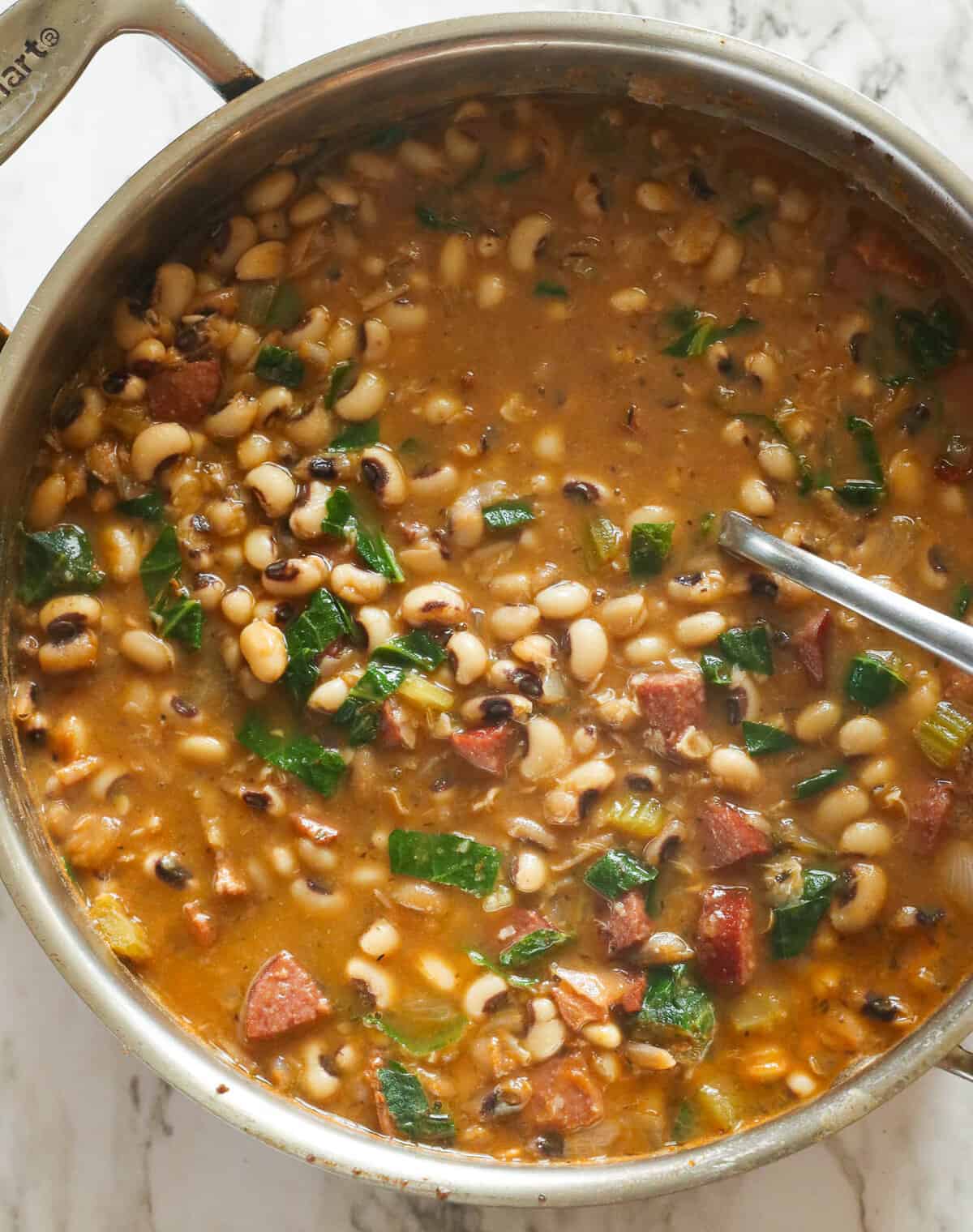 Recipe Variations
Vegan – You may omit the meat and replace the chicken broth with vegetable broth. And to make this dish more nutritious, you can add carrots and bell peppers.
Crockpot Southern Black-Eyed Peas – This one is more effortless but equally delicious. Put everything in the crockpot, and you'll have your dinner ready in 5-6 hours on high and about 9-10 hours on low. Imagine the things you can accomplish in those waiting hours. 😉
Tropical Twist – Make these black-eyed peas with bacon and pork creamy and interestingly yummy with coconut milk. And I bet you'll love this dish even more.
Tomato – Fresh tomatoes or tomato sauce will also add a nice variation to this Hoppin John recipe. The kick of tangy goodness will surely make your tastebuds happy.
Tips and Tricks
You may substitute the dried black-eyed peas with canned ones. However, you won't need to cook them for long. Just add them 10 minutes before the dish finishes cooking, so they have time to heat through.
For a thicker consistency, I suggest mashing a few softened beans against the side of the pot with the back of your spoon. The mashed beans will make a creamier and thicker broth. Or remove about a cup, puree them in a blender or food processor, and then pour the puree back into the pot and give it a good stir.
Making-Ahead and Storage Instructions
Surprisingly, this bean stew freezes well. So go for it and make a big batch. It'll come in handy when the craving hits.❤️
Store – Transfer the black-eyed peas stew into a clean, airtight container or heavy-duty freezer-safe ziplock bags once cooled.
Refrigerate for 3-5 days or freeze for 6 months. Pack them in a freezer bag, either the whole thing or in single-serving sizes for easy thawing and reheating.
Reheat – Thaw overnight in the fridge when ready to serve. Reheat in a pan on medium-low heat or in a microwave. You may add more chicken broth or water as needed.
Note: Discard unconsumed reheated leftovers as they are more prone to bacterial growth if placed back in the fridge.
FAQs
Do I need to soak black-eyed peas before cooking?
Technically, you don't need to soak black-eyed peas. However, soaking them for a few hours or overnight shortens the cooking time.
How do you make black-eyed peas taste better?
Adding bacon, sausage, and seasonings intensifies this dish's flavor. But if you want to take this dish to another level, I suggest adding tomato sauce or coconut milk.
Why do you put a penny in black-eyed peas?
As a tradition, Southerners put clean pennies and dimes into their pot of black-eyed peas believing they'll bring luck and prosperity. And people believe that the one who gets the most coins in their bowl is the luckiest.
What to Serve with Black-Eyed Peas
Double your luck by serving this black-eyed peas recipe with these incredible side dishes below.
Collard Greens
Akara (Black-Eyed Peas Fritters)
Easy Dinner Rolls
Sauteed Brussel Sprouts