These are our FAVORITE Snickerdoodle Recipe Snickerdoodle Cookies because they are really soft and full of cinnamon. They are constantly praised!
Snickerdoodle Cookies are a classic cookie recipe that we make frequently! These are almost as popular as our Chocolate Chip, Sugar, or M&M Cookies!
THE BEST SNICKERDOODLE RECIPE
I LOVE Snickerdoodle Cookies! My family searched for the best Snickerdoodle recipe for a long time, and we finally found THE ONE.
We've used it for as long as I can remember. It's just as traditional as our Chocolate Chip Cookie and Sugar Cookie recipes.
What is the origin of the name Snickerdoodle? According to Wikipedia, Snickerdoodles are possibly German in origin, and the name is a corruption of the German term Schneckennudeln ("snail noodles"), a kind of pastry.
I'm not sure how the word evolved, but there's something sweet and delightful about it. If you enjoy Snickerdoodles, I recommend you try this cookie recipe. Alternatively, try White Chocolate Snickerdoodles or Cake Mix Snickerdoodles!
HOW TO MAKE SNICKERDOODLES
We love that these cookies are so simple, even the kids can help out!!
DRY INGREDIENTS. In a medium bowl, stir together the flour, cream of tartar, baking soda, and salt. Set aside.
WET INGREDIENTS. Cream together the butter (barely softened) and sugar. Add the eggs until it is well blended.
SHAPE. Add the dry ingredients to the wet ingredients, mix well, and then shape the dough into 1-inch balls. Roll the dough balls into your cinnamon and sugar mixture.
BAKE. Place on an un-greased pan, and bake at 350°F for 8-10 minutes.
These cinnamon cookies are baked to perfection, and result in the most accessible, most delicious cookie!!
The perfect cinnamon/sugar ratio: In a small bowl, combine 3 tablespoons of sugar with 1 tablespoon of cinnamon.
RECIPE TIPS
Cream of Tartar.  Many debates whether it's even a Snickerdoodle without the cream of tartar. It's a critical ingredient that transforms the cookies into a tangy, chewy cookie, differentiating it from a typical butter sugar cookie.
Although cream of tartar is typically used in Snickerdoodle Recipes to add a unique tangy taste and chewy texture, you can still use a substitution.
Cream of Tartar substitution. To make Snickerdoodles without cream of tartar:
replace the 2 teaspoons of cream of tartar AND the 1 teaspoon baking soda with 2 teaspoons of baking powder
mimic the tangy taste by also adding a splash of lemon juice or white vinegar
Unsalted Butter. Make sure your butter is barely softened. Too soft and the dough will be too soft. Cold butter won't be incorporated all the way and will result in a thicker cookie.
Room-temperature eggs incorporate better than chilled eggs. To warm them up faster, place them in a bowl of warm-hot water for a few minutes. You can also use this post on How to Soften Butter Quickly. 
Sifted ingredients. It may seem unnecessary, but be sure to sift the dry ingredients in a separate bowl, before mixing them into the creamed mixture. The less gluten in the flour is activated by mixing, the softer the cookies will be. 
Scoop. Use a cookie scoop to spoon out the dough. This will help ensure that all the cookies are uniform in size.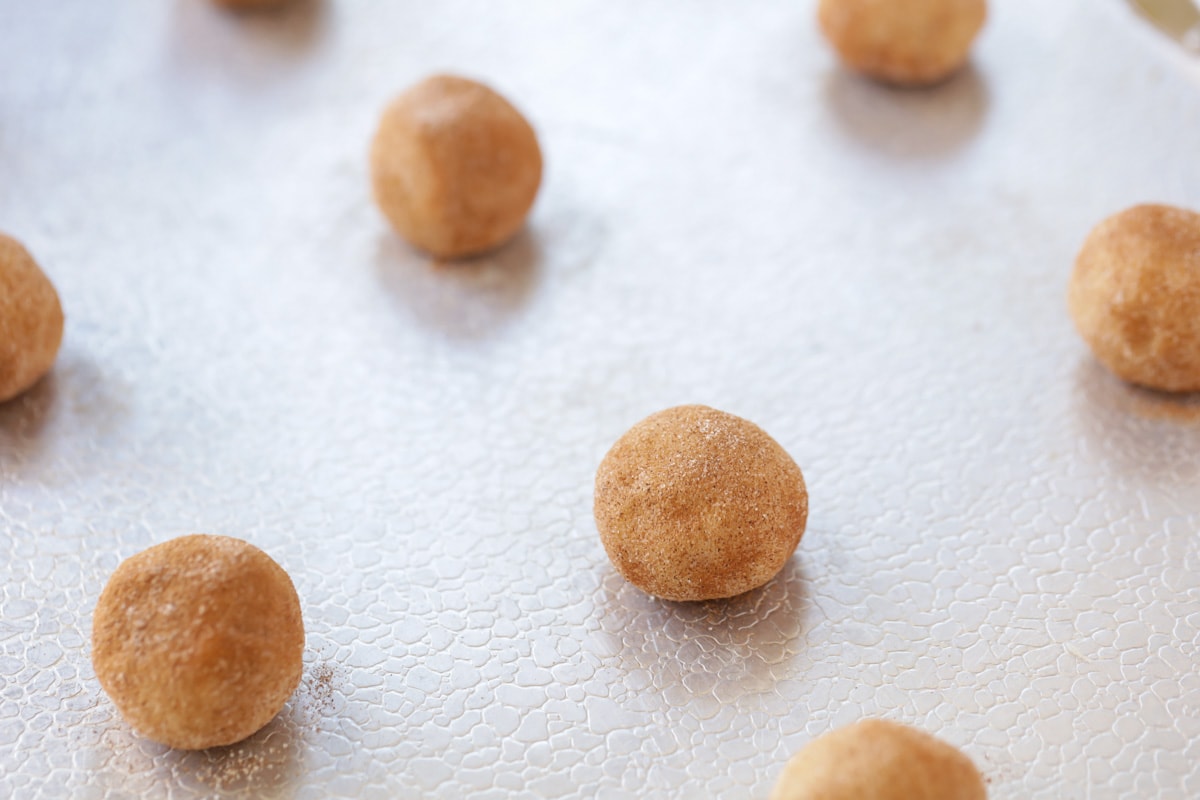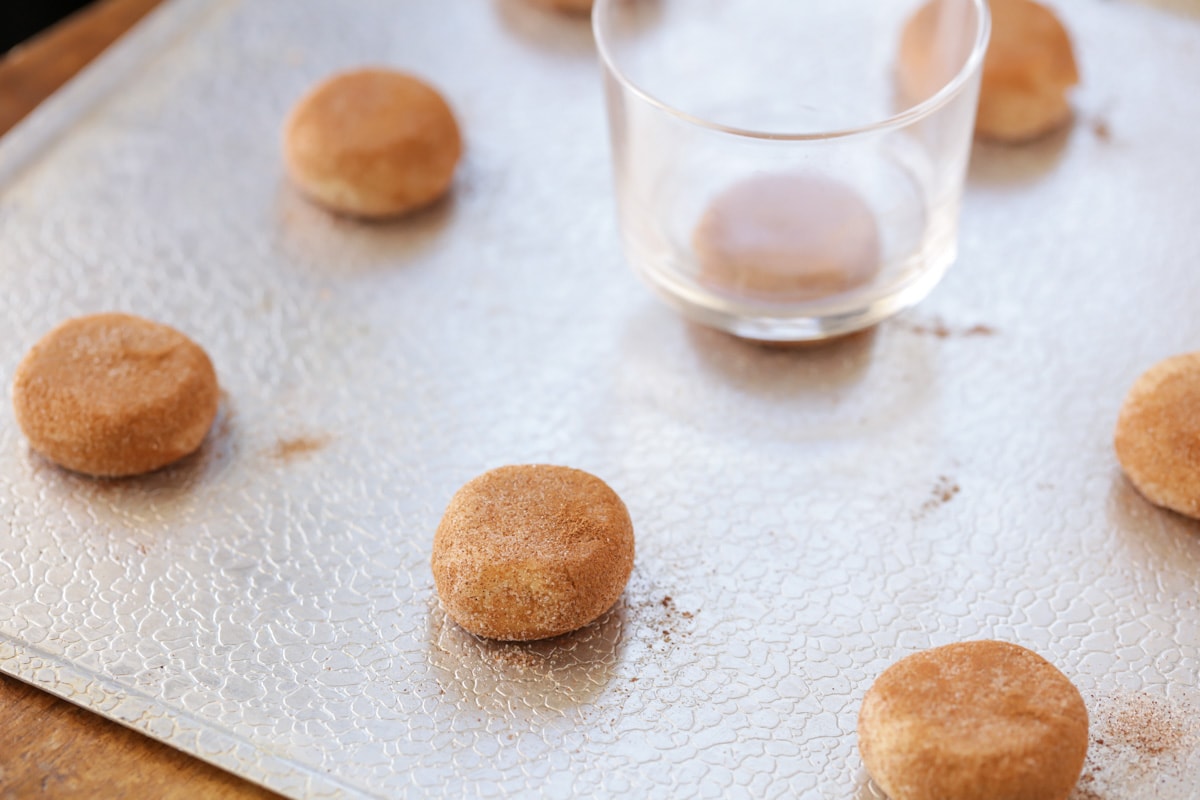 SOFT SNICKERDOODLES
A soft Snickerdoodle is essential. There are a couple of tricks to make and keep your Snickerdoodles soft and chewy:
Do NOT overbake them! Our recipe says to bake for 8-10 min. Depending on how soft you want them:
Take them out of the oven after 8 minutes.
Let them sit on the baking sheet for a minute, then place them on a cooling rack.
Eight minutes of cook time will insure a soft chewy cookie – even after they have cooled.
Store in an airtight container. Throw a piece of bread into the container with your cookies. The bread will absorb the extra air in the container, and make the cookies stay fresh for longer! Most cookies can stay fresh, when stored in an airtight container at room temp, for about 3 days. 
TO CHILL OR NOT TO CHILL
Many Snickerdoodle recipes call for CHILLING the dough. Ours DOES NOT, but you can if you'd like.
The first cookie – CHILLED. The result is usually a thicker cookie, without as many cracks as are usually found on the tops of Snickerdoodles.
Center cookie – CHILLED + FLATTENED. This cookie was chilled, rolled into a ball, rolled into the cinnamon sugar mixture, then flattened a little bit with the bottom of a cup. If you like a more flat, chewy cookie, try this method.
Last cookie – NOT CHILLED + NOT FLATTENED. This is our classic recipe. No chilling, no flattening, and baked to perfection. This is how we prefer our cookies, but use the above methods if you like your cookies more thick or flat.
STORING INFO
STORE. Keep cooled cookies in an airtight container at room temperature. They'll last for 3-4 days. 
FREEZE. Store in a freezer bag, or air-tight container in the freezer for up to 4 months. When you're ready to eat or serve them, let them thaw in their container on the counter. They will taste just as yummy the day you made them!
FREEZE the dough. Once you have shaped and coated the cookie dough balls with the cinnamon and granulated sugar mixture, line them up on a small baking sheet (one that will fit into your freezer). Place the dough balls in the freezer until they are solid, then transfer them to a freezer Ziploc. Freeze for up to 2 months.
To bake – line dough balls on a baking sheet and allow them to thaw for about 20 minutes before baking. You may need to add a minute or two to the bake time to compensate for the cooler starting temperature. 
Nothing can beat a warm, cinnamon and sugar-covered cookie. That is why we love these Snickerdoodles so much! We hope you love them as much as we do.