This Mexican pizza recipe is layers of Mexican Pizza Recipe With Tostadas sandwiched between two crispy shells and topped with plenty of melted cheese and toppings. SO much better than Taco Bell!
These Mexican pizzas are so easy to make at home, my kids request them all the time! Serve your Mexican pizza with a side of coleslaw or fruit salad for a complete meal.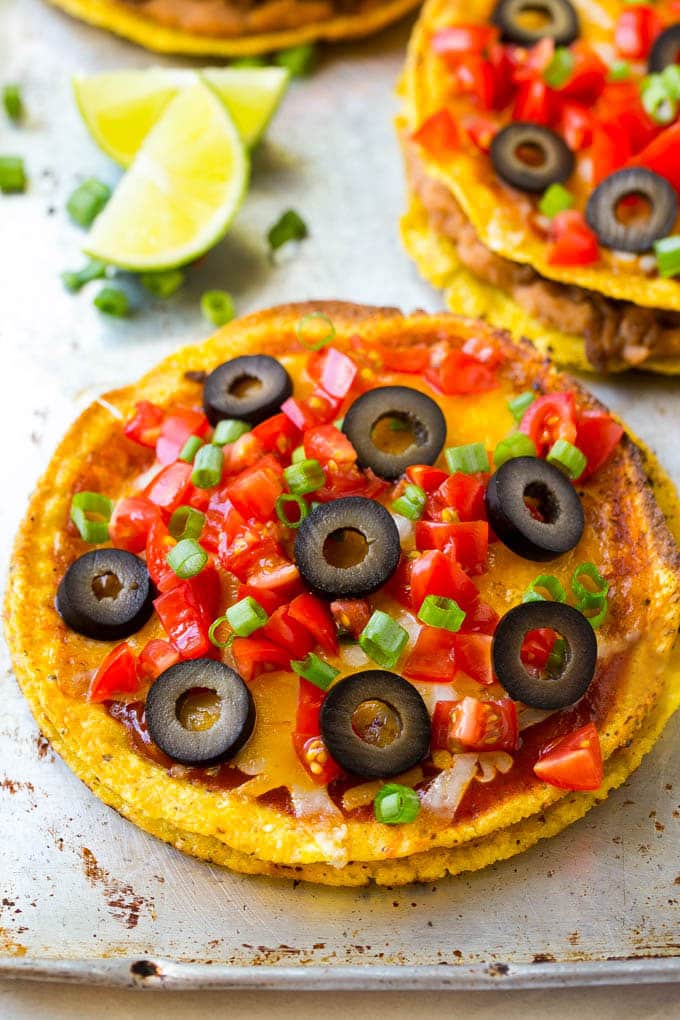 Are you a Taco Bell fan? I can't say that I am, but husband is. When he gets Taco Bell, he always orders the Mexican pizza, and I decided it was time to learn to make them at home. I'm happy to say that my homemade Mexican pizzas are absolutely delicious, and you don't even have to be a Taco Bell fan to enjoy them! In fact, even if you are a Taco Bell lover, you'll prefer the homemade version.
HOW DO YOU MAKE MEXICAN PIZZA?
The first step is to brown ground beef, then flavor it with taco seasoning. Spread a layer of refried beans over a tostada shell, then add a scoop of meat on top. Place a second tostada shell on top of the meat layer, then add a topping of enchilada sauce and shredded cheese. Place the pizzas in the broiler until the tostadas are crispy and cheese is melted. Add diced tomatoes, green onions and sliced olives on top of the pizzas, then serve and enjoy.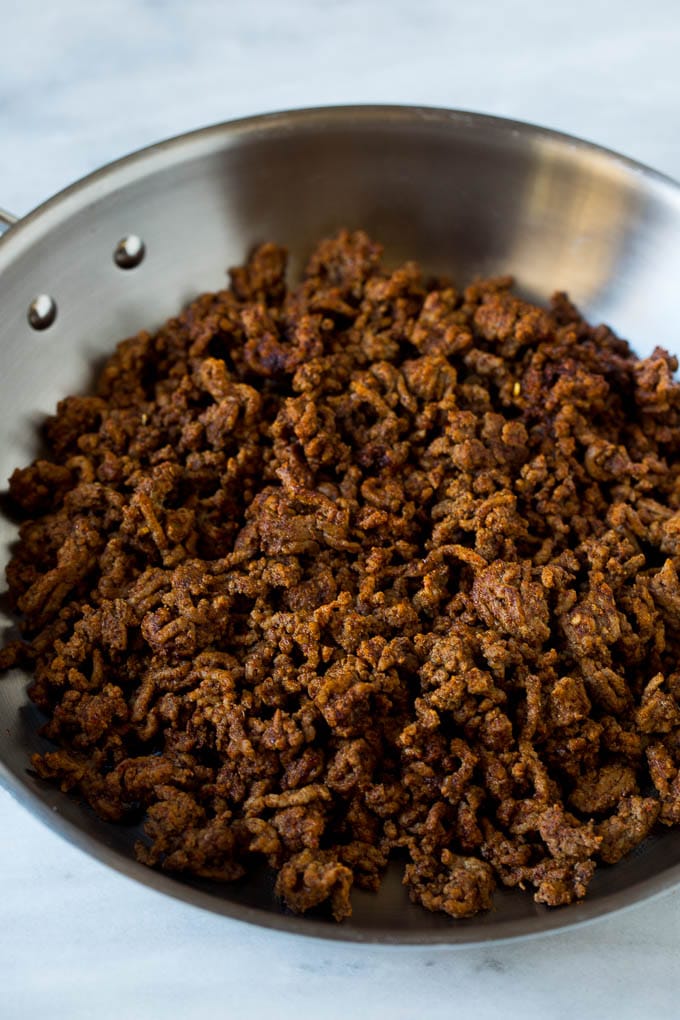 TIPS FOR THE Mexican Pizza Recipe With Tostadas
After you've added all your toppings, cut the pizzas into four wedges and serve. The shells do soften over time under the toppings, so these pizzas are best served immediately after they come out of the oven.
Use an offset spatula to evenly spread the beans on top of the tostada shells.
I use 90% lean ground beef as it has plenty of flavor without a lot of grease. If you use a meat with a higher fat content, be sure to drain off any excess grease after it's cooked.
I recommend grating your own cheese for this recipe, as many store bought bags of shredded cheese contain anti caking agents and don't melt as well.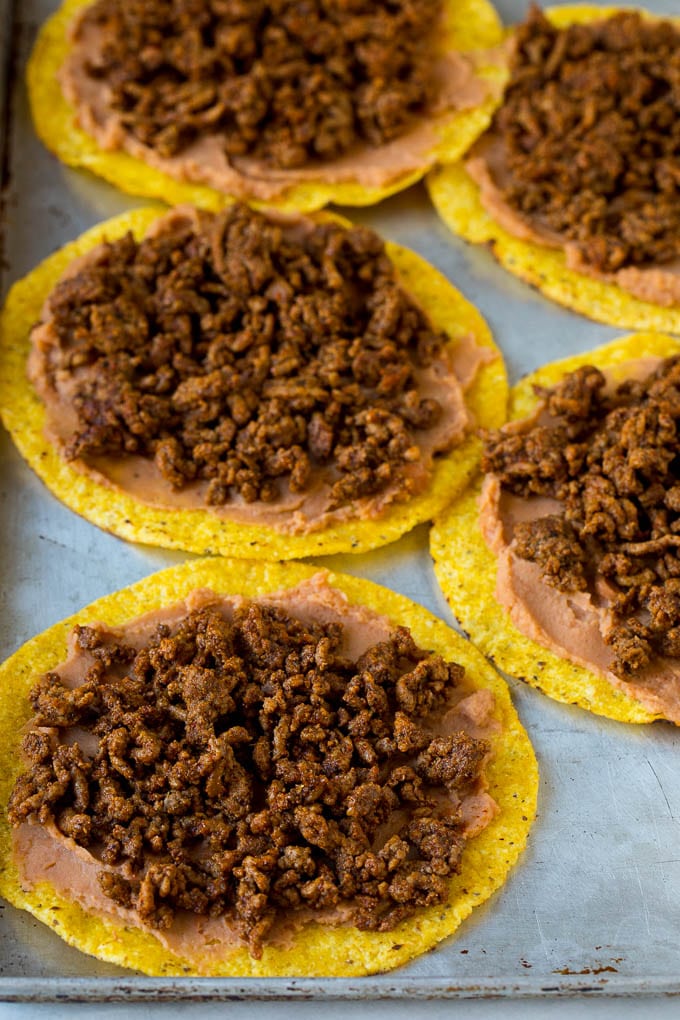 MEXICAN PIZZA VARIATIONS
This version of Mexican pizza is similar to what they serve at Taco Bell, but you can always switch up the ingredients to customize the dish to your tastes.
Meat: Instead of ground beef, try ground turkey, shredded chicken or diced steak.
Fillings: You can add other fillings such as corn, diced green chiles, or sauteed bell peppers.
Toppings: Feel free to add an assortment of toppings such as cilantro, sour cream, avocado, sliced jalapenos or salsa verde.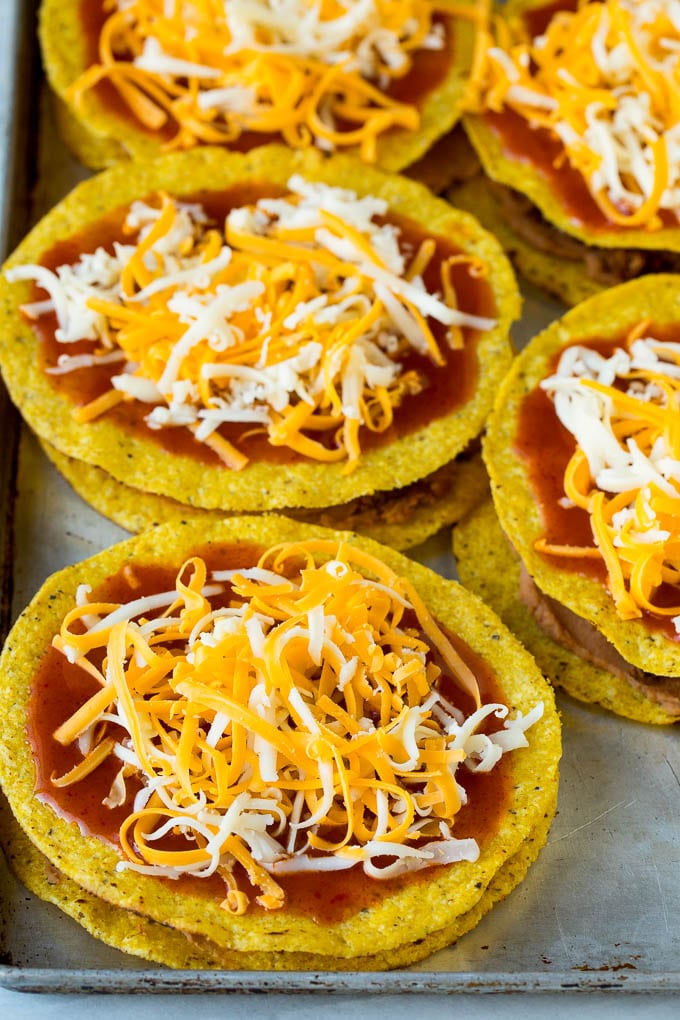 This is a great way to do something a little different for taco night, my kids always get so excited when it's time for Mexican pizza!