When people think of ice cream, grape flavor is not one that immediately comes to mind. Most people don't think it even exists or that it's impossible to find, but this recipe proves them wrong. Make a batch of thick and creamy grape ice cream at home with this five-ingredient recipe with just 30 minutes of prep. You can also pair this out-of-this-world treat with an equally rare and unique jello cake to make your dessert binging extra special.
Tips On Making A No-Churn Grape Ice Cream
Grapes have a high water content, which many find difficult to work with when it comes to making ice cream because it freezes rock hard, making it very difficult to scoop and enjoy. With our recipe, however, you can easily make grape flavored ice cream with only basic kitchen supplies. Worry not, because you won't be needing an ice cream maker for this one! To make it even easier, here are some useful tips in making this recipe the fuss-free way:
Freeze your ice cream container for 24 to 48 hours before starting this recipe. A metal or glass container will work best for this one, as it keeps cold for a longer time at room temperature.
Use heavy cream. This will give you a thick, smooth, and creamy consistency. Heavy cream has a higher fat content than milk so it won't turn rock hard or frozen solid.
Pour your mixture into your frozen container while it chills over an ice bath.
Use plastic to cover your ice cream. It's important to cover the container with plastic so the mixture doesn't crystallize or form icy droplets on its surface.
Apart from this one, another fruity addition to our yummy ice cream recipes is this sweet and refreshing mango ice cream made with fresh mangoes.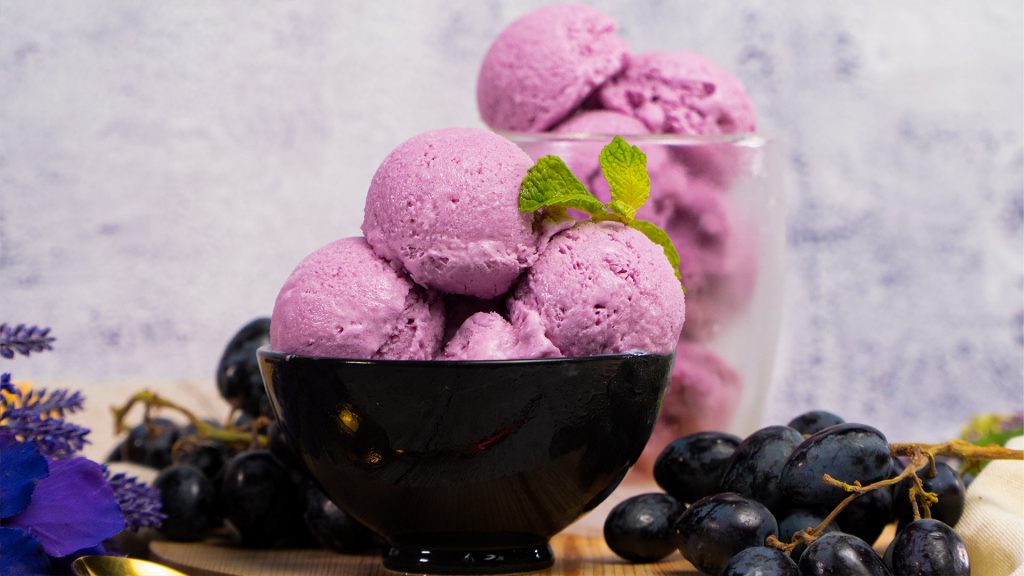 How To Make Grape Ice Cream
Print
Turn your favorite fruit into a delectable frozen dessert. Enjoy sweet, creamy and thick spoonfuls of this uncommon and underrated ice cream flavor. You'll wonder why grape ice cream didn't exist sooner.
Ingredients
2 cups heavy cream
1 lemon, juiced
24 oz grape juice
14 oz condensed milk
¼ cup white sugar
For Garnish:
Instructions
In a separate large bowl, mix heavy cream, condensed milk, and grape juice.
While stirring, pour in lemon juice and sugar.
Mix until sugar is totally dissolved.
Pour the mixture into the frozen ice cream container.
Place in the freezer for 6 hours, preferably overnight.
Take the container out of the freezer every 40 minutes and stir vigorously for 3 mins. For the first two hours. Cover with cling wrap and freeze until set.
Once ready, scoop and serve immediately.
Nutrition