This copycat recipe for Cosmic Brownies Recipe is ultra rich, fudgy, and chewy just like the kind you buy at the store but oh so much better with no preservatives!
When I was a kid in elementary school anytime I'd bring a sack lunch it was basically the same exact thing every time. I always ate a peanut butter sandwich, I didn't even like jelly necessarily. There'd usually be some other element in my lunch bag but I'd ALWAYS request my mom add in a Little Debbie brownie as my special treat.
Before Cosmic Brownies came into existence, it was just the Little Debbie brownies with the nuts on top. I would always pick off all the nuts. In my child mind, nuts shouldn't be part of any dessert. Gross.
So you could imagine my excitement when I spotted Cosmic Brownies on the shelf at the store. Candy > Nuts any day! I freakin' loved those Cosmic Brownies. Never did I think I'd grow up to make a copycat cosmic brownie, ha!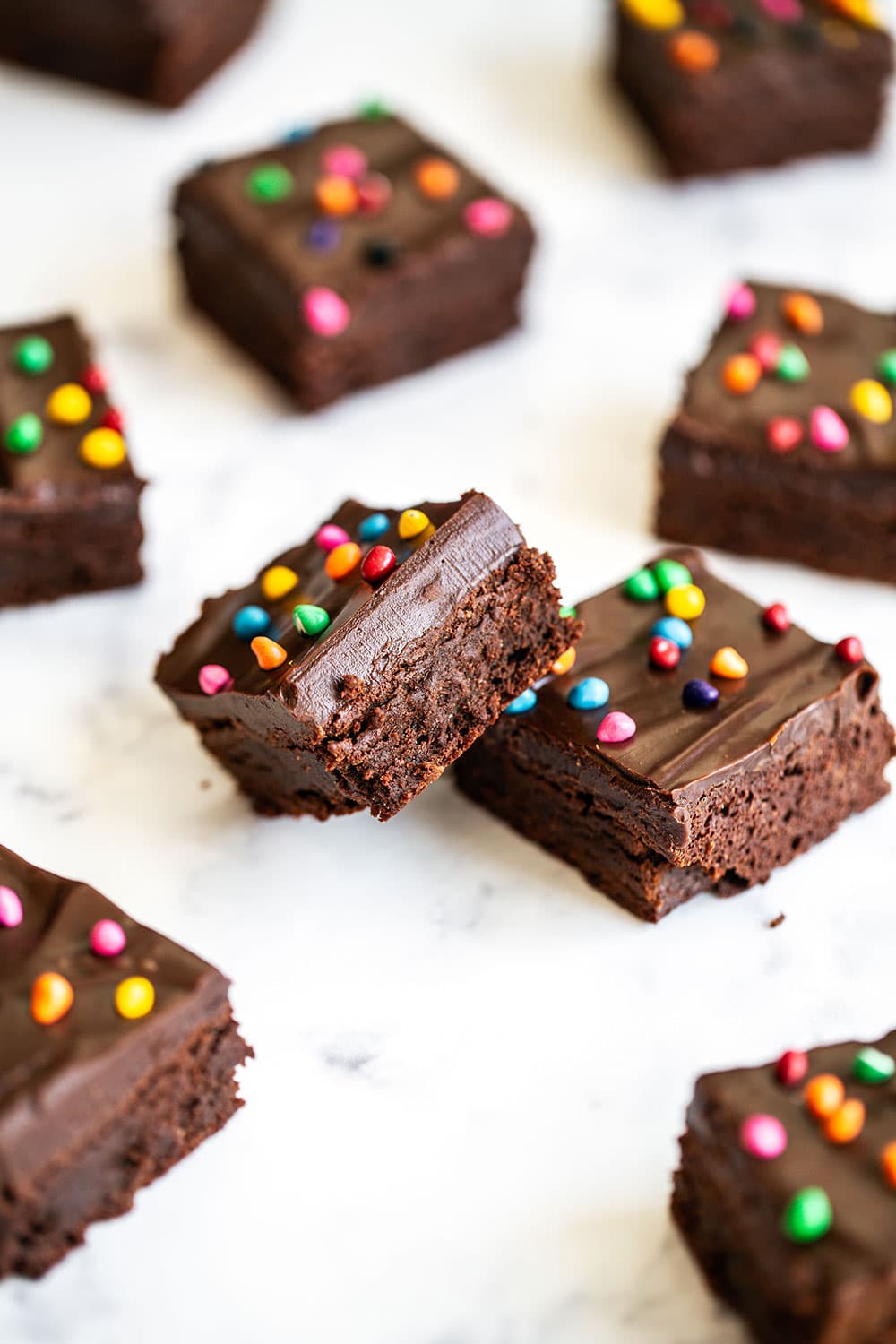 I got started making the most fudgy, chewy brownies I could, using everything I learned from my Ultimate Brownie Guide.
I even managed to find the exact candies Little Debbie tops the brownies with, they're Wilton Rainbow Chip Crunch and I found them at Michael's and I've seen them at Joanne's, but they're also available by a different brand on Amazon.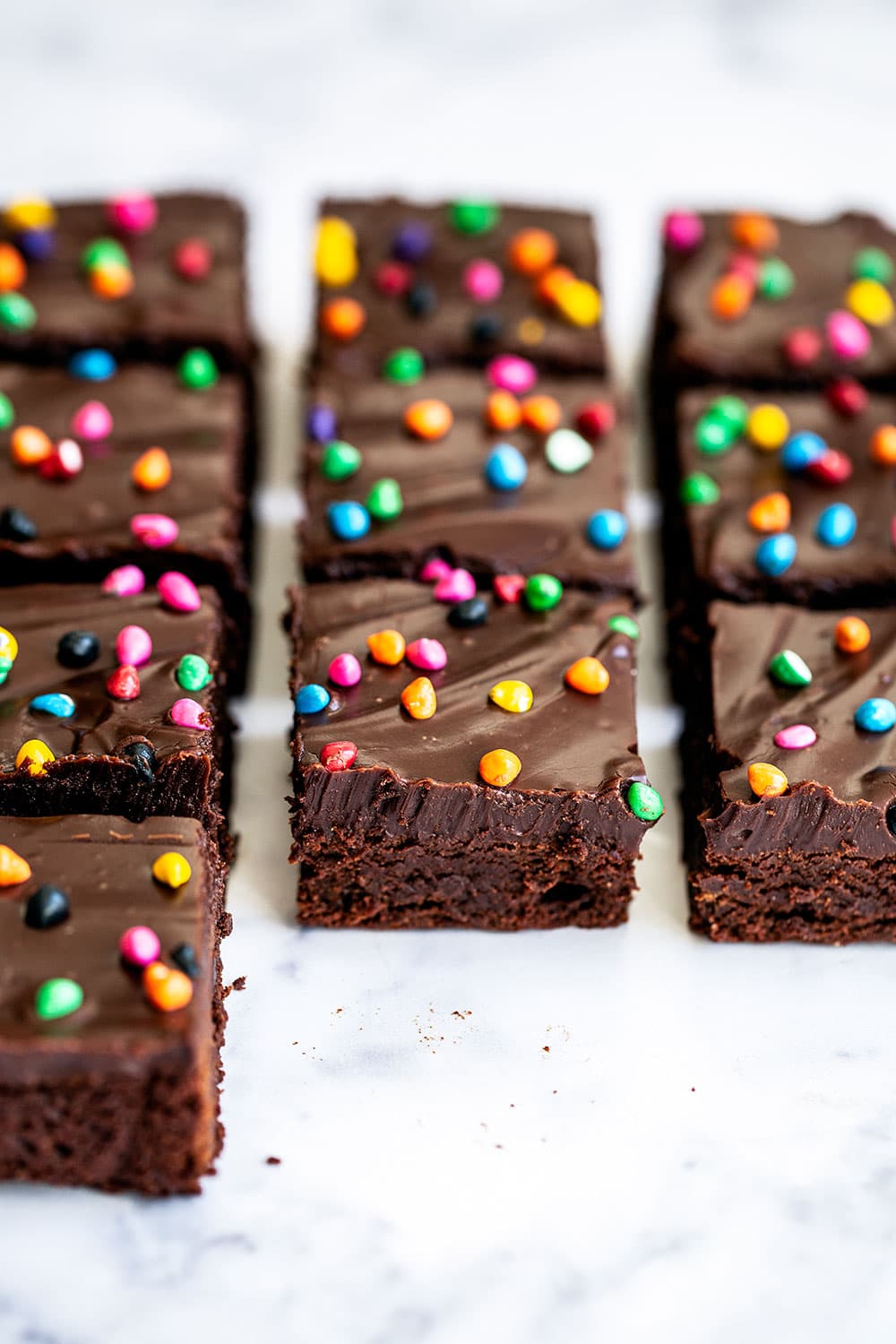 But these babies are SO much better! Real and satisfying chocolate taste with no crazy artificial ingredients.
How to Make FUDGY Brownies
These little brownies are ultra rich and fudgy, almost like candy. I got as close to the texture of the store-bought kind as I possibly could.
What are Cosmic Brownies?
They're an invention of Little Debbie that basically summarize a childhood in the 1990s in each bite. Cosmic brownies are ultra chewy with a rich fudgy frosting that's dotted with rainbow crunch sprinkles. They come individually wrapped and are super sweet and quite artificial tasting, so making them from scratch tastes SO much better. I opted for a fudgy chocolate ganache topping that delivers such a better burst of chocolate flavor than store-bought. The store-bought version was one of my favorite childhood treats, so I've created a homemade version that's more suited for an adult palette. No weird chemicals or artificial flavors in these homemade Cosmic Brownies!
Butter vs. Oil in Brownies: Which is Better?
I recently experimented with Butter vs. Oil in brownies to see how the type of fat used affects the final result. The brownies made with butter were fudgier and softer than the oil brownies. There were also shocking differences in the crusts of the two brownie batches! You'll find these Cosmic Brownies call for all butter to provide the best flavor and melt-in-your-mouth texture.
Check out my Butter vs. Oil in Baking article for a full breakdown on each of these fats and how they affect tenderness, flavor, and texture in baked goods (and not just brownies).
Do I have to use cornstarch + corn syrup?
There is a small amount of both cornstarch and corn syrup in this recipe to help make the brownies super chewy and fudgy. Feel free to omit the corn syrup or use golden syrup if you prefer! Your brownies just won't quite have that same Cosmic texture.
Extra egg yolk = fudgy & chewy!
You'll notice in most of my brownie recipes I add an extra egg yolk. This adds fat and protein which translates to rich, fudgy, and chewy brownies.
Crumbly brownies? Make sure to measure properly!
To get moist, fudgy, and chewy brownies you want to be extra careful to measure your dry ingredients properly. Namely the flour and cocoa powder. I like to use a digital kitchen scale to ensure 100% accuracy. If you don't have a scale, then use the spoon and level method for both the flour and cocoa powder to ensure you don't add too much and create dry & crumbly brownies. You can learn more about how to measure properly here.
The Best Brownie Baking Pan
For the best brownie recipe, I highly recommend using a metal baking pan. I like this baking pan, or any quality metal baking pan that isn't too dark in color. The darker the color, the more likely you are to burn the edges or have dry edges.
Glass or ceramic baking pans will take LONGER to bake these brownies, and the texture may become more dense. Learn more in my Glass vs. Metal Baking Pans article.
How to cut brownies perfectly
Science has shown our visual perception of food actually Cosmic Brownies Recipe influences how tasty we perceive food to be. If you want to get perfectly clean, neat, and even brownie slices, check out my How to Cut Brownies Cleanly in 5 Steps article. Don't worry – even if you don't follow all these tips, your brownies will taste just as delicious.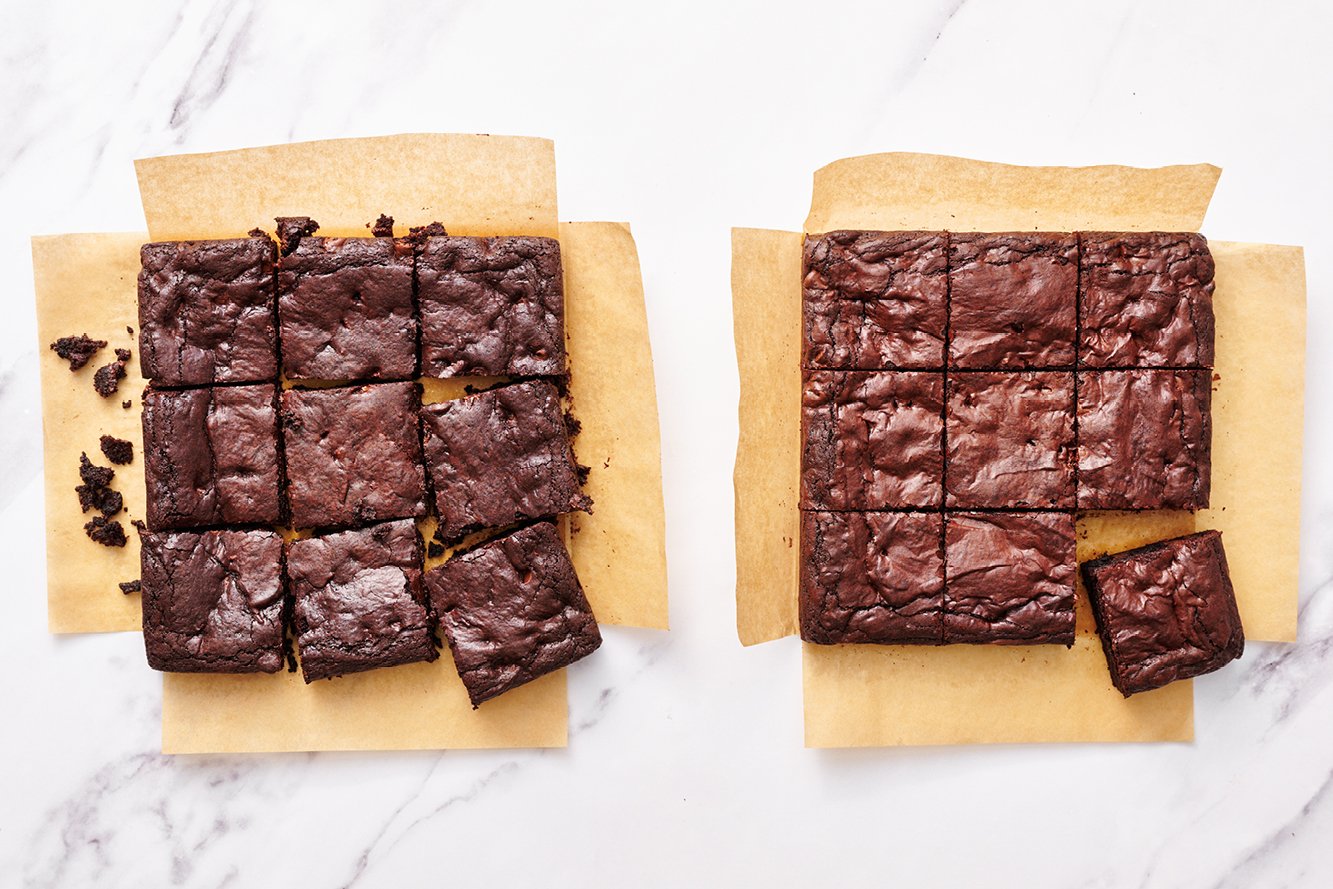 How to store brownies
These brownies, with the frosting, can be stored in an airtight container for 3 days at room temperature and for 1 week in the fridge. Brownies are best sliced and served chilled for neat squares.